sonic slit find us at our new domain www.sonicslit.com music new age music cd higher power metaphysical music cd original spiritual space jazz ambient music monk mason music cd spiritual space monk mason jazz heart music cd original monk mason music cd World sonic slit music cd higher power Ambient music cd New Age sonic slit music cd higher power music cd music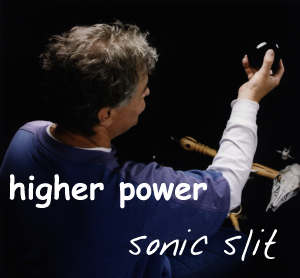 CD Cover
---
CD Compact Discs

AVAILABLE NOW
only $9.99
FREE SHIPPING


You can listen to samples of each track
click on the play list below

Click Here


listen to "The Promises"
&copy Wm. Mason '97,'98,'99
All Rights Reserved
MP3 format
from the cd
higher power by sonic slit


Click Here


listen to "song for sad Lisa"
from sonic slit's new cd "god in me, god in you" (mp3 format )
to be released in 2019
&copy Wm. Mason 2000
All Rights Reserved

sonic slit visit www.sonicslit.com music cd higher power monk mason spiritual space monk mason jazz heart music cd original monk mason music cd World sonic slit music cd Higher Power Ambient music cd New Age sonic slit music cd Higher Power music cd music music cd music:

Sonic depths transport you amoung refreshing vistas, the pristine recording of the Escatawpa river that wends through the album.... shamanic echoes & enchanting tonal poetry.

Poly-rhythmic inventions will surprise you and open memories of ancient delight. Lush ambience surrounds you in graceful beauty. This is your invitation to listen and enjoy... Listen...... become intoxicated ..... with music for your heart and soul.... order your copy of higher power today.

Spiritual space jazz...
From the diverse influences in my music.
this cd higher power, is largely instrumental.
the last two cuts feature vocals....
New age with an edge sliding into trance and ambient earth harmonic and heart beat influenced mood are mixed with synth to create altered state of consciousness inducing compositions.
Bridged by original multi track recordings of the Escatawpa river.
Featured spontaneous appearances are made by the river, cicadas at sunset into twilight, frogs, a feral cat. Also appearing is a mosquito flying between 3 mics and other subtle aural performances found only here on higher power.

The 4th cut "Unconditional Love"
is a really wild cut featuring clarinet solos
run thru a whammy 2 pedal that is other worldly reminiscent of zif
evocative cries of ancient giants stalking the night just before sunrise
Sun Ra's spirit was present at the session :>)

unsolicited customer comments:
"Just want to tell you that I came home to a really really nice surprise today. I was so tickled when I heard your CD. It's wonderful. I am touched that you have shared so much with me. It is so appreciated. It not only shows me the beauty you have to give but also the beauty that lies within you. You are so gifted, so talented."
---

Use Your Credit Card


AVAILABLE NOW
only $9.99
FREE SHIPPING
Click Here

listen to "The Promises"
&copy Wm. Mason '97,'98,'99
All Rights Reserved
MP3 format
from the cd
higher power by sonic slit

Click Here

listen to "song for sad Lisa"
from sonic slit's new cd "god in me, god in you" (mp3 format )
to be released in 2019
&copy Wm. Mason 2000
All Rights Reserved